Many iPhone users are interested in the option to edit the iOS 16 wallpapers for iPhone that Apple has brought. This change will help users to create personalized, unique and completely separate lock screens, without touching.
If you have updated to IOS 16, let's try Sidekick mobile with apps that can make iOS 16 wallpapers for iPhone much more interesting in the article below!
---
Need information for latest update IOS 16.1? IOS 16.1-ALL HERE'S WHAT'S NEW IN THE LATEST IPHONE UPDATE
---
With the iOS 16 updates, users get more customization with their iPhone lock screen. These are 4 apps you may need to download iOS 16 wallpapers for iPhone with many eye-catching effects and beautiful images.
1. Lockd – Lock Screen Wallpapers IOS 16
This is an application that provides a variety of themes for users to freely choose iOS 16 wallpapers for iPhone Besides, the application interface is also very simple and easy to use. Lockd allows users to choose the download quality of wallpapers as "Standard" and "High Format". With "Standard", users have to watch a short ad in order to experience it. However, the picture quality from "Standard" is still not really good. As for "High Format", users will have to pay a fee to use.
2. Lock Screen Wallpapers +
This Lock Screen Wallpapers + app brings users a collection with simple, intimate themes for iOS 16 wallpapers for iPhone: Landscapes, art, dogs, cats, and more. However, with the free entry in the app, you have quite a few options. And to use the entire wallpaper store in this application, the user fee needs to pay up to 6$/month
3. Wallpapers Now
This is one of the most popular apps for
iOS 16
wallpapers for iPhone. The Wallpapers Now application interface is eye-catching, many beautiful wallpapers with high quality and most importantly, free. Besides, this live wallpaper application has many very special features:
Convert your videos/photos directly into live wallpapers with eye-catching effects
Supports automatic search by color mode to match the background image to your cover, photo, accessory or outfit
Exclusive home screen with daily renewed images
4. MyScreen
MyScreen is the application that can interfere most deeply into the iOS 16 lock screen system. Besides iOS 16 wallpapers for iPhone, MyScreen also allows modifying Widgets, application icons. From there, users can freely change the iOS 16 wallpaper for iPhone to their liking.
 How to change iOS 16 wallpaper for iPhone
No need for apps to refresh iOS 16 wallpapers for iPhone, now users can customize the lock screen to their preferences with the iOS 16 update. With this update, users can turn the lock screen into something new. make iOS 16 wallpapers for iPhone more beautiful. Besides, Apple has integrated more lock screen wallpapers that change according to the weather for live monitoring.
 1. Change the color and font of the clock
With this change, the color and font of the clock will be changed to become more prominent in the iOS 16 lock screen. With a small change, your lock screen will be completely refreshed.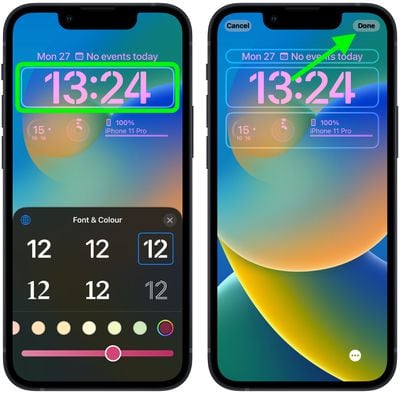 2. Add widget for lock screen
With iOS 16, users no longer need to rely on the Today View menu to keep track of widgets. Instead, Apple has provided more dedicated widgets to use right on the lock screen.
On the iOS 16 lock screen, apps that may contain sensitive information will not appear until Face ID confirms the owner. The notification details will also be hidden until the owner is identified so users can be assured of security.
3. Create a new lock screen
Users can create many iOS 16 wallpapers for iPhone to switch according to their preferences at any time. And this feature works the same way as on Apple Watch.
With the customization of colors, fonts, widgets, users can comfortably update themselves with the most impressive iOS 16 wallpapers for iPhone. Hopefully through the above article, you know how to choose and update impressive lock screen templates and applications for yourself.
---
If you have any problem related to your phone, you can contact us by hotline 0490 187 440. Check out the price range for repairs services: SIDEKICKMOBILE
Address: 10/354 Mons Rd, Forest Glen QLD 4556
Phone: 0490 187 440
Email: info@sidekickmobile.com.au